All participants must have all of the required LandSea gear on the packing list prior to arriving on campus for the beginning of the LandSea program. We are here to help you in gathering this gear at little to no cost! LandSea provides all other group gear besides what is listed on the packing list (including but not limited to cooking equipment, food, shelter, water treatment, first aid kits, etc.).
When you register for LandSea you indicate whether you intend to rent a backpack, sleeping bag, sleeping pad, thermal/warm layers, and/or hiking boots from LandSea or bring your own. Use this page to help assess your personal gear to see if it is appropriate for LandSea and to learn more about the importance and role of various items on the packing list for LandSea, including footwear and clothing.
If you need to make any adjustments or changes to the gear you requested to rent from LandSea (at no additional cost), please reach out to us at LandSea@kzoo.edu.
Learn more about Equipment (sleeping bags, ground pads, backpacks)

Learn more about Footwear & Hiking Boots
Learn more about Clothing
See the Packing List in our LandSea Info Packet that was emailed to participants in the spring
---
Equipment
Sleeping Bags
Sleeping bags must be a modern mummy-style (with a hood). This helps with warmth retention on cooler evenings. We recommend that it is made of synthetic fabric and synthetic or down fill. Synthetic-filled bags are preferable since they will keep you warm even if wet.
For LandSea Adirondacks (Basecamp & Expedition): Your sleeping bag should be rated to at least 15-20 degrees Fahrenheit or warmer and be compressible (the sleeping bag should not take up more than roughly a quarter of your available backpack space). This ensures that you will still have enough space remaining for your required personal items plus the group gear and food that will be distributed at basecamp.
For LandSea Kalamazoo: Your sleeping bag should be rated to at least 30 degrees Fahrenheit or warmer.
Ground Pads
Ground pads (aka sleeping pads) are used to provide a barrier between you and the ground while you sleep, increasing your comfort and warmth. Foam pads and ThermaRest® pads are acceptable in both the 3/4-length or full-length size. The LandSea program provides both full-length and 3/4-length foam pads upon request (at no additional cost).
Backpacks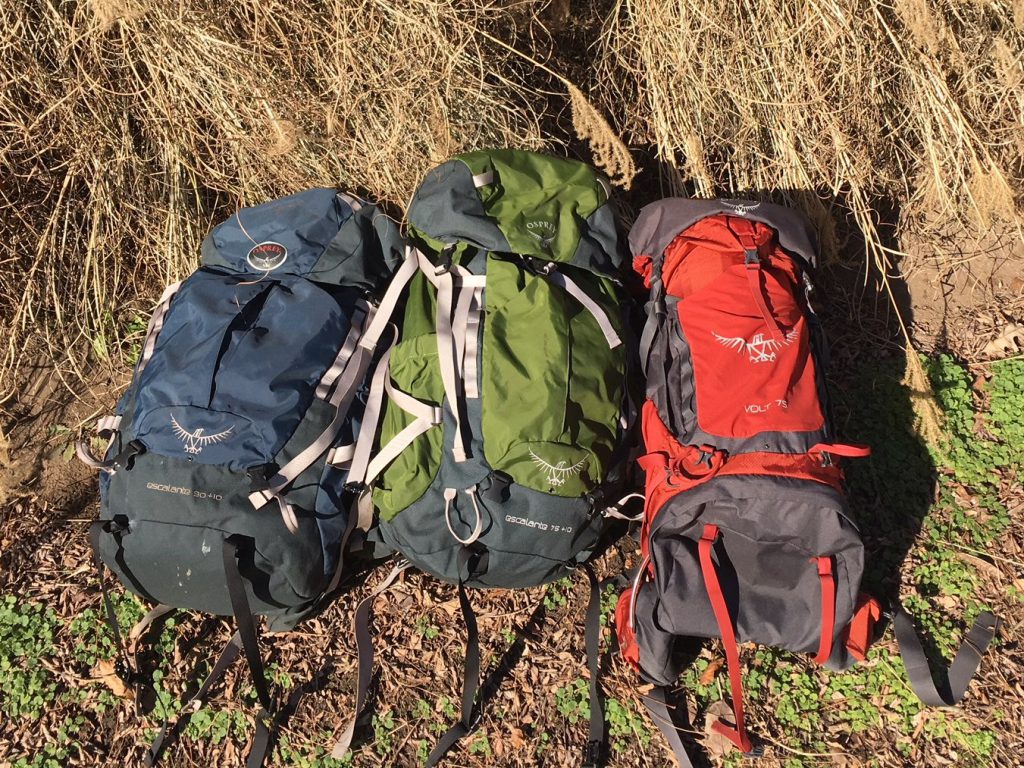 For LandSea Adirondacks, backpacks must be rated for extended backpacking experience, fit to the participant , and have a volume of at least 3500 cubic inches (60 L). Smaller packs will not provide enough room to carry your group and personal gear. Both internal and external frame packs are acceptable as long as they are large enough and fit comfortably.
A correct fit is very important. If you are considering borrowing a friend or family-member's internal or external frame pack, please ensure that it correctly fits your body before bringing it on trail. For information on correctly sizing a pack, visit: http://www.rei.com/learn/expert-advice/backpacks-torso-hip-size.html. If it does not fit, or you are unsure, reserve one of the program packs instead of taking the chance that you will spend two weeks hauling a poorly fitting and uncomfortable pack.
For LandSea Kalamazoo, you can pack your items in a medium-sized duffel bag or backpack. You should also bring a day pack, school-sized backpack, or small drawstring bag with you to carry day-to-day items such as a water bottle, sunscreen, bugspray, an extra warm layer, etc.
---
Footwear
Footwear is a key piece of gear to participate in the LandSea program. We have hiking boots available for participants to rent from LandSea at no additional cost. However, for items that you are bringing with you, keep reading to learn more about boot requirements for the Adirondack programs, hints for purchasing, and tips for proper boot sizing.
Hiking Socks
Wool or synthetic
Must be taller than the ankle of your hiking boot
Brands to look for: Thorlo®, Smartwool®, or other equivalent brands
Hiking Boots (LandSea Adirondacks only)
For the LandSea Adirondack programs, we require boots that are designed for:
Hiking long distances (approximately 5-8 mi per day)
through rough terrain
while carrying a heavy pack (approximately 40-50 lbs).
This type of boot will provide ample support and allow you to safely participate in the LandSea Adirondack activities. Boots made for this type of trip will be harder to break in than many of the lightweight ones you will see, but are definitely worth it in the long run. Make sure that you have your boots well broken in before arriving in the Adirondacks. See below for tips on breaking in your boots!
Expect to pay $100 to $200 for your boots. Cheaper ones are usually less expensive for a reason! With boots, you cannot compromise on quality– they will be your most important piece of equipment in the wilderness. There are a variety of reputable brands including: Asolo®, Danner®, Merrill®, Montrail®, Raichle®, and Vasque®, to name a few. Other brands of boots that provide comparable features and support are acceptable. The brand that is best for you is the one that best fits your feet!
Looking to save money? You can rent boots from LandSea at no additional cost. Indicate on your registration that you'd like to rent hiking boots or contact us to make changes to your rental request on your registration.
Features to Consider on Hiking Boots
Ankle support – We require boots that fit above the ankle, as they will provide support for your ankle and lower leg and protect your ankles from painful sprains.
Durability – Boots that are constructed of full-grain leather with few seams are very durable.
Materials – All leather boots are supportive and can easily be waterproofed. Materials such as GoreTex® are often used in combination with or instead of leather, which is also great as long as the boots provide enough support.
Ability to withstand water – Waterproof boots are important for LandSea. Both full-grain leather and some synthetic materials can help keep your feet dry. It is also recommended to buy a waterproofing treatment that can be applied to your boots.
Lining – The lining of the boots can be made of synthetic materials or leather. In general, full or partial-leather linings are more durable than the linings made with synthetic materials. Leather linings will mold to your feet after being broken in. Synthetic linings will usually dry quicker.
Sole – The soles should be thick and rigid and provide plenty of traction so you can safely walk on wet or slippery rocks. Most likely, you'll want semi-rigid plastic mid-soles or half-length shanks that will make the boot stiff enough to protect your feet from rocky trails. These should also provide good flexibility at the balls of your feet.
No matter how good the boots are, they will be inefficient—and even painful—if they do not fit properly.
Find the general size first. If possible, have your feet measured by an experienced sales person.
Try on many different styles and sizes by a variety of manufactures to find the style and size that work best for you.
When determining the correct length of your hiking boots, allow for a bit more room in the toes than is normal for most shoes. You should be able to kick your foot to the ground without your toes touching the front of the shoe. This assures that when you are hiking down steep trails, your toes will not hit or rub up against the front of the boot, which will lead to blisters.
After the correct length is found, then evaluate width. Boots often come in wide, medium, and narrow. When assessing the width, it is important that your feet fit comfortably inside, yet snugly. This is especially true in the heel. It is recommended that your heel move no more than ¼ of an inch in any direction. However, you should be able to wiggle your toes and flex your ankles comfortably.
Try all boots on with the same socks that you will be wearing to hike. A small variation in sock size can change the fit of the boot dramatically.
When you find a pair of boots that fit well, you will know.
Hiking boots can be found at most outdoor stores. Sales personnel will be able to assist you in finding the right boots as well as answer questions you might have. We recommend buying boots in person rather than through the mail, over the phone, or on the web in order to ensure a better fit. Buy your boots early so you will have plenty of time to break them in!
How to Break in Your Boots
The sooner you start breaking in your boots, the more comfortable they will be for LandSea! As soon as you get your boots, begin by wearing them 2-3 hours a day with the same sock combination you will be using on LandSea. Begin wearing your boots full-time for 1-2 weeks before the program begins. The more active you are in your boots, the quicker they will be broken in– sweat and movement are the key factors! Remember, the break-in period for different boots varies widely. It is essential that your boots be well broken in before participating in LandSea!
---
Clothing
Clothing is another vital piece of gear to bring with you to LandSea and help you stay comfortable and warm on the trip! Curious about some of the requirements on the packing list for clothing? See the resources below to learn more about the importance of clothing, materials, layering, and waterproof rain gear. Still have questions or curiosities? Reach out to us to find out more!
REI has some great resource articles about: